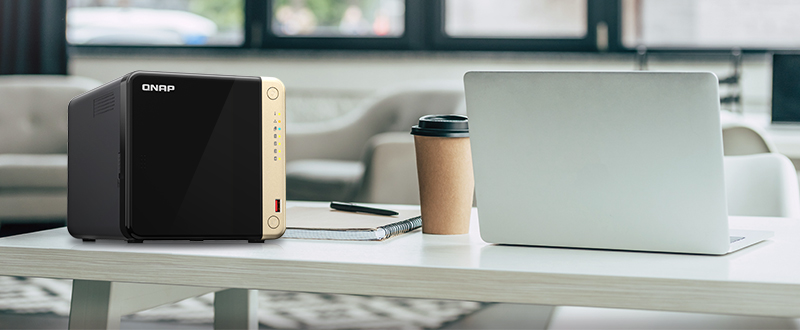 TS-464
Best-selling. Budget-wise. Best for you.
The new TS-464 is the hottest-selling QNAP NAS of 2022, greatly surpassing its predecessors and peers. Enjoy high-speed 2.5GbE connectivity, PCIe expandability, and all the essential features you need in 2022 with the TS-464!
All-inclusive cost-effective NAS

x86 processor
The high-performance Intel® Celeron® N5105/N5095 quad-core processor (burst up to 2.9GHz) empowers the TS-464 to host virtualization applications, business-level backups, and multiple QNAP NAS apps.

2.5GbE is a must in 2022!
Go beyond gigabit ethernet and use your NAS to its fullest potential with dual 2.5GbE ports. Supporting port trunking for speeds of up to 5Gbps, your backups, large-file transfers, and multimedia streaming will be greatly enhanced.

Futureproof expansion
Install a PCIe card to expand core NAS functionality such as adding additional M.2 SSD slots or additional network ports.
Dual M.2 NVMe SSD slots
M.2 SSD is a complete game changer, and their prices continue to decrease. With built-in M.2 PCIe slots you can take your NAS performance to the next level by using SSD caching.

4K multimedia and VM display
HDMI 2.0 supports 4K output, providing great benefits for applications like video editing or industrial design that demands high resolution as well as intensive media storage, transfer, and display.

Best value
The new TS-464 provides superior functionality compared with similar 4-bay NAS on market, but at the same price point. Get more for your money with the TS-464!
Backup efficiently and securely

Boxafe
Exclusive Google Workspace and Microsoft 365 SaaS backup

Hyper Data Protector
Free VM backup for VMware vSphere and /Microsoft Hyper-V

Hybrid Backup Sync
QNAP NAS/file server/macOS backup

NetBak Replicator
Windows backup

Snapshot
Protect your data against Ransomware
Learn more about
2022's hottest-selling QNAP NAS!

TS-464
TS-664
Disk drive bays
4
6
Processor
Intel® Celeron® N5105/N5095 quad-core processor (burst up to 2.9 GHz)
Memory
4 GB DDR4 (expandable to 16 GB)